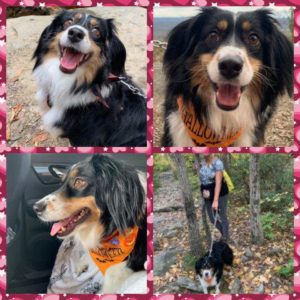 Monica adopted Roxie at two years old. Roxie's new home consisted of Monica, Monica's mother and brother. Roxy and Monica bonded with ease. Roxy also formed a fondness for Monica's brother and mom. She seemed to enjoy her daily walks with Monica's mom and the time they spent together. But that was short lived. By the end of her first week in the home, Roxy barked and growled at her. Around the same time, she refused to go on walks and nipped at her anytime she got close. By the second week in the home, Roxy did not permit Monica's mom in the same room as her. She'd lunge and bark anytime she entered a room. Whenever the mom turned her back, she'd got nipped. Around the same time, Roxy displayed aggression toward anyone entering the home.
The family members desperately wanted things to work with Roxy, but warned Monica that the dog could not stay if she continued to act this way. Let's face it, Monica's mom couldn't move about in her own house without having a dog lunge and bite her. On top of that stress, Monica had an amazing trip planned. No one felt safe watching Roxie and now Monica feared she'd have to cancel her travel plans. While Roxie was more important than loosing the money she'd paid for the trip, her traveling companion would suffer a financial loss too.  That distressed Monica.
We evaluated Roxy and determined that her aggressive behavior was due to fear.
EVALUATION: was a challenge. She lunged and barked the entire time.
LESSON ONE: she lunged and barked again. We taught the leave it command. Then she shut down. She did not like being told what to do.
LESSON TWO: Slowly we worked through the fear by making training sessions as comfortable as possible for Roxy. Week two ended on a positive note. Roxy responded in the final minutes of training.
LESSON THREE: Roxie willingly worked for Monica. Careful to continue moving forward, we did not participate in the training, rather, stood in the distance and verbally guided Monica through each command.
LESSON FOUR: We saw a more confident and respectful dog. She now enjoyed walks again and responded to learned commands. (Leave it, Sit, Place, Come) At this time, Roxy was moved around the house without a basket muzzle. When she occasionally bullied Monica's mom or visitors to the home, the leave it command shut her behavior down. We saw a new respect for Monica's mom and a total respect for Monica. Now, she remained quietly in her place whenever visitors stopped by.  In turn, visitors completely ignored her.
LESSON FIVE: Roxie ran through our agility course with Monica and her mom cheering her on.
UPDATE: Monica and her friend did go on their dream vacation and Roxy did well at home with Monica's brother. Obedience training helped Roxy learn to trust Monica and the other family members. To this day, the family remains diligent with training and careful to respect Roxy's space.
UPDATE TWO: Six months have passed since we last saw Roxy. Last week we received pictures of Roxy on a hike with Monica and her mom. They have hiked several times this past summer and fall and are enjoying life. Look how happy Roxie IS! I'd like to point out that Monica's mom is pictured above holding Roxy's leash. Remember, she refused to walk with her. Seven months earlier. she'd bite her for getting too close. On vacation, Roxy even cuddled with Monica's mom. The family remains diligent in reading Roxy's body language to ensure the interaction is welcoming and not scary.
When we responded to the email containing these photos, we learned that Monica was away again. Roxy was home and doing well with the rest of the family. Obedience training and the family's dedication to help Roxy, played a huge role in teaching her to enjoy her new life. We are so proud of this family!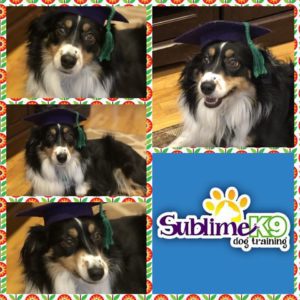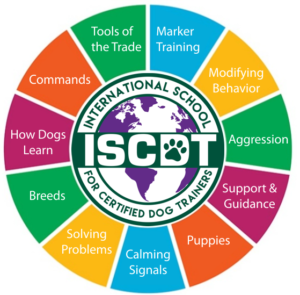 Our 18 week online program is a hands-on program where students are required to work with dogs. Skill and ability is determined through a series of videos submitted to the school. We also offer a 2-week and 4-month in-person internship. To learn more about the courses we offer, visit ISCDT.com and click on enroll.