If you have been searching for a Certified Dog Trainer Course online, then the ISCDT course is for you.  The course is designed specifically to help build your skills in becoming a Certified Dog Trainer. Each chapter features full page descriptive text, along with detailed training videos with examples of trainers, dogs and owners executing our techniques. The key to success as a dog trainer is to build a solid foundation of skills that you can apply to your training sessions.
The Certified Dog Trainer Course online version consists of eighteen interactive lessons where students are required to study and pass chapter exams and periodically provide video of their work with dogs. During the course of study, students have access to their mentors through email and video chat. We encourage students to volunteer with rescues or animal shelters so they have access to different types of dogs and various issues. In addition, students receive access to a private social media page where they will receive training tips and can communicate with ISCDT staff. Qualified students will receive a diploma and earn the title of a Certified Dog Trainer – Comprehension (CDT - C).

From Chapter One, the Introduction, to Chapter Eighteen, Modifying Behavioral Issues, our Certified Dog Trainer Course online and offline versions are designed to teach you the necessary skills to become an ISCDT Certified Dog Trainer.  Whether you enroll in our Certified Dog Trainer Course online, when you complete it you will be prepared to:
Train dogs professionally and with confidence
Be prepared for our advanced training courses
Answer questions from dog owners and provide quality / thoughtful / helpful answers
Establish and market your own dog training business
Lesson Requirements:
Chapter Reading
Video Review
Homework Assignment
Instructor Approval per Lesson
Thorough & Detailed Coverage:
(Swipe on Mobile)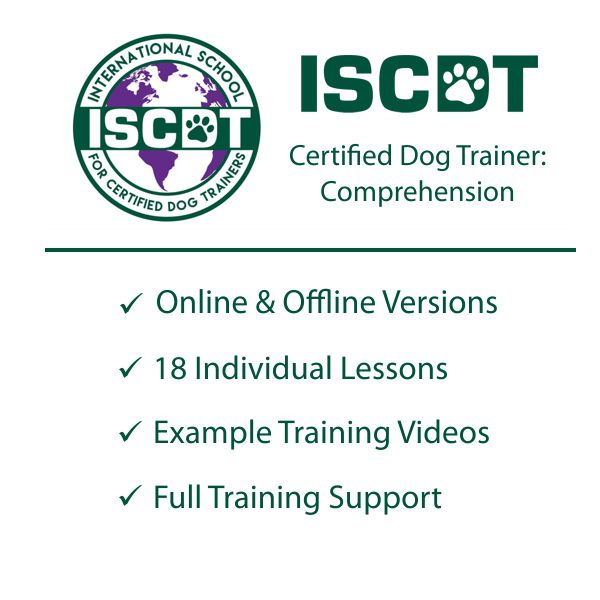 Online Dog Trainer Course
To Purchase our Online Dog Trainer Course:
Select Purchase Button
On the Cart Screen select "add to cart" then proceed to checkout
Fill out all required information on the Checkout Page
You will be sent your login information automatically to the email address entered on the checkout page
Once purchased is completed to you will be automatically enrolled in the courses and sent to your Course Page
You may Login / Logout at any time.